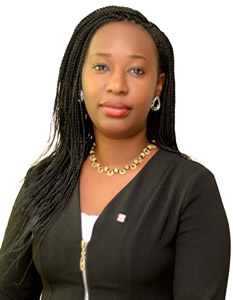 Mrs. Uruemu-esiri Oghen – Company Secretary
Mrs. Uruemu-esiri Oghen is the Company Secretary of the organization. She rejoined the Company in January 2015 from Minaj Holdings Limited where she was the Company Secretary & Head, Human Resources from April, 2012 till 2014 during which amongst other achievements she was responsible for the successful organization of the Company's first Board of Directors meeting. A graduate of the University of Liverpool, UK (2012) from where she obtained her MSc. in Global Human Resource Management. She obtained her B.L and LL.B degrees from the Nigerian Law School, Lagos (2003) and Delta State University (2002) respectively. Mrs. Oghen has over 10 years of managerial experience in the Legal Sphere, including participation in company public offers, general corporate commercial matters, regulatory (NSE, SEC, CAC, NAICOM) relationship management and assignments. She has versatile professional experience in Legal, Business Advisory and implementation of Contractual Objectives to deliver on Stakeholders expectations.
Mrs. Oghen had also served as Associate Legal Practitioner at Sigmund & Martin (2004-2005) a Legal Services Firm based in Lagos, Nigeria and was an Associate Solicitor at F. K Idepefo & Co (Oasis Chambers) (2003-2004) a Litigation and Legal Services firm based in Jalingo, Taraba State.
Currently coordinating "two SA (Standard Alliance) Teams" in respect of the following Strategic Business Exercises-the Special Placement of over 2Billion units of Ordinary Shares and the Merger between Standard Alliance Life Assurance Limited and Standard Alliance Insurance Plc Mrs. Oghen demonstrates strong Leadership and Supervisory Skills, qualities which led to her recall by the new Management/Investors following her prior working experience in Standard Alliance Group (SAG) from November, 2005 to March 2012 during which time she was Officer, Company Secretariat/Legal/Human Resources concurrently.