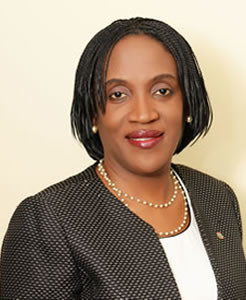 Ms. Nkeiruka Uzoechi – Head Of  Human Capital Management Department
Ms. Nkeiruka Uzoechi heads the company's Human Capital Management Department. She holds a Bachelor of Law degree (LLB) Hons from the Nnamdi Azikiwe University, Awka and was called to the Nigerian Bar in 1991. She also holds a Master's degree in Business Administration (Management) from the Lagos State University.
She has over 20 years of experience in Human Resources Management, having worked at various organizations. She started her career as a Legal Officer with Sea Petroleum Ltd and rose to the level of Company Secretary/Legal Adviser before her exit. She has also worked with Trust Bank of Nigeria, Standard Alliance Insurance Plc and Spring Life Assurance Plc where she held positions as Head of Human Resources and served in several management committees.
She was part of the team that repositioned Standard Alliance Insurance Plc from a limited liability company to a leading insurance company listed on the Nigerian Stock Exchange.
Nkeiruka was a partner at HR Support Company Limited, a Human Resources Consulting firm which offers services ranging from Consulting, Outsourcing, Training and Development.
She has expertise in human resource administration and human capital development. She has designed and implemented human resources strategies for various organizations spanning from performance management systems, HR policies, structure and design as well as compensation and reward structures.
She has attended various human resources, leadership and strategic courses, has facilitated in several training programmes and spoken at various seminars.