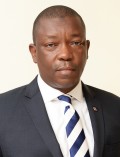 Mr Bolaji Oladipo – Executive Director
Bolaji Oladipo was the Managing Director of Standard Alliance Life Assurance Limited before the recent merger of the company with its sister company Standard Alliance Insurance Plc.Prior to his appointment as Managing Director, he was the Executive Director, Business Development of the company. In this capacity, he provided leadership and direction to both the corporate and retail business departments of the company. He was also responsible for managing the company's strategic plans aimed at improving the company's overall market share and also piloting the business drive of the company for growth in revenue, scope and spread. Under him, the company's branch network rose and new products were designed, launched and added to existing product lines.He was at one time General Manager of the company in charge of marketing with extended functions in Research and Development.
He started his insurance career with Equity Indemnity Insurance Company (Now Equity insurance plc) in August 1993 where he worked until year 2000.
In March 2000, leveraging on his sound knowledge of the insurance industry, he joined the team of Standard Alliance life Insurance as Head of Multi Clients Unit. Rising meritoriously due largely to his outstanding qualities as an astute marketer and a team leader, it is to his credit and the team that the Business Development Group of the company witnessed a tremendous growth in gross written premium thus putting the company as one of the leading life companies in Nigeria. His rise to the position of Managing Director of the company is a confirmation of his proven leadership and managerial capabilities.
Bolaji has a Bachelor of Science degree in Economics from the Lagos State University in 1990 and received his Master of Business Administration specializing in marketing management from the same university in 2006.
He qualified as an Associate of the Chartered Insurance institute of Nigeria in 1999 and became a fellow of the institute in 2013.
He has attended several multi disciplinary courses in Insurance underwriting, claims and marketing. He has also attended several trainings in leadership and strategic management both locally and abroad.
Bolaji possesses people and goal oriented skills with strong leadership and planning endowments.
His Key strength include: risk management, business and process development.
An excellent team player, a self-motivated person with keen eye for details and accuracy.